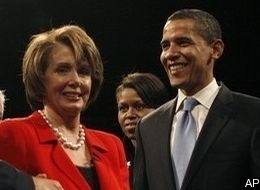 Recently the Donkeys (Democrats) have been demanding that the government "rescue" domestic automobile manufacturers (GM, Ford, and Chrysler).  As they always do when they make a power grab to further control and steal from their constituents, politicians (namely Obama and Pelosi) have been speaking out regularly demanding "immediate" action by the federal government to give billions upon billions of dollars to these struggling domestic auto manufacturers.
The Wall Street Journal reported early Wednesday that Democratic leaders in Congress as well as the incoming administration from President-elect Barack Obama are formulating ways to include Detroit automakers in the government's $700 billion rescue fund.

The Journal said Congressional Democrats plan to forward legislation next week to secure such a deal.

The move comes after House Speaker Nancy Pelosi called Tuesday for funds from TARP, or the Troubled Relief Asset Program, to be used in aiding near-bankrupt Ford, GM and Chrysler LLC.

Obama reportedly also is asking the Bush administration to free up funding immediately, the Journal said. Obama reportedly is seeking funds through the Treasury, Department of Energy and the Federal Reserve.

Politico.com also is reporting that Obama plans to appoint an auto "czar" to oversee reforms in the industry. That person would press for an "economically viable auto industry," the Web site said.

Source: MarketWatch
A more short-sighted plan, I could not imagine.
The obvious crimes of this plan are in the taxation of the entire nation then redistributing that money to a small group of people – all while paying the government along the way to facilitate the forced transaction.  While this is the more serious crime, I don't want to sound like a broken record.
The problem, outside of the government theft, is that this plan will simply not work.  Pelosi, Obama, and company were requesting a $25 billion rescue by the government for the auto-manufacturers.  Naturally, this number has now inflated to an unknown figure as the democrats are now attempting to include the auto-industry in the $700 billion (before $250 billion in earmarks) bailout that was initially intended for the financial sector.
$25 billion is a lot of money to distribute from tax payers to three large companies (GM, Ford, and Chrysler).  However, it will certainly become a far greater figure, especially if it is included in the $700 billion bailout.  Recently, Ford and GM have stated that they will run out of cash in 2009.  The problem is this: as of the beginning of 2008 GM had $25 billion in cash on its balance sheet and Ford had $35.3 billion.  That means that within a two year period (perhaps less) these companies will have blown through a combined $60.3 billion in cash.  Given that Chrysler will also be in on this $25 billion rescue, we can imagine that Ford and GM will be given a total of well under that $25 billion.  If these companies keep burning cash at the rate they are doing today then this "rescue" will keep them afloat for another couple of months before yet another and another rescue will be required.  This waltz between the government and the automobile companies will continue for years and will cost tax-payers billions of dollars.
So what should be done?  Should the government just stay out of it and let these giant companies collapse and allow for hundreds of thousands of people to lose their jobs?  Yes.  There is a reason that GM, Ford, and Chrysler are in much more trouble than Toyota or Honda – labor unions.  The domestic automobile manufacturers have signed huge contracts with labor unions guaranteeing certain levels of compensation to their employees along with a number of other benefits.  The companies are forced to pay their employees so much that selling their automobiles becomes unprofitable and they burn through billions of dollars of cash.  If these companies are left to the powers of the market, as they should be, they will likely either consolidate or go bankrupt.  In the event that they are completely bought out then it will likely be by a company that has tons of cash that believes it can do something different to make the company work.  If they go bankrupt then they will be protected from their obligations to their creditors and their employees, but will be forced out of business.  However, their assets will be put up for sale, including the brand names.  As such, a crafty company or a private equity group is likely to move in and purchase the assets of these failed companies, including the names themselves.  The money from these sales will be given to the manufacturers' current creditors as payment on the collateral that was defaulted on.  The company or equity group that purchased the manufacturers' assets will likely resume business as usual at the same plants producing the same automobiles.  Additionally, they will likely hire back most of the old employees, but without that same labor union contracts that forced the earlier manufacturers out of business.  In essence, if the market is left free to control itself then the companies will re-establish themselves as profitable going concerns and their employees will be able to rely on some job security that is currently deteriorating at a rapid pace.
The market is dynamic because people are dynamic.  A market is simply a group of people that express their wants and needs through supply and demand and the language they speak is price.  The current state of the domestic automobile manufacturers prohibits them from selling their products to the market at a price that enables them to be profitable.  The market will eventually push these companies out of existence and replace them with something superior.  Failure in the market is a good thing in that it allows innovation and progression.  Sometimes destruction is the most beneficial to creation.  The market knows this.  The government does not.
7 Comments »
RSS feed for comments on this post. TrackBack URI
Leave a comment