It is now taken for granted that markets and capitalism are flawed and must be regulated and controlled, if not destroyed.    The message from the current economic crisis is clear. "It is the end of capitalism."  Barney Frank tells us that "The private market got us into this mess; the government will have to get us out."
Bashing markets is convenient and  politically popular. But to make the argument requires a willful disregard of facts.  The role of bankers and other market players in causing the current crisis is undeniable, but none of them would have undertaken their actions had it not been for the massive role played by government. The trigger for the financial meltdown was the U. S. sub-prime housing fiasco – a pure example of government failure and regulatory policy run amok.
Barney Frank in the House and Chris Dodd in the Senate pushed for loosened mortgage lending restrictions so first-time home buyers could qualify for loans they could never get before.  Reacting to these and other more significant policy changes, lenders such as Countrywide Financial in California set up units to service these so-called borrowers. On the brink of bankruptcy, Countrywide had $170-billion in mortgage assets, most of them subprime. (Interestingly, Chris Dodd  and members of Fannie Mae and Freddie Mac executive corps, received  below-market special mortgage loans from Countrywide.)
The Government Sponsored Agencies (GSEs) Fannie Mae and Freddie Mac, were forced by the democrats to increase the percentage of "affordable loans" they made. The Housing and Urban Department gave the GSEs a target of 42% of assets in the mid 1990s. The target increased to 50% in 2000 and 52% in 2005. In addition, for 1996 HUD required that 12% of all mortgages purchased by GSEs be special affordable loans — income less than 60% of the median in the area – then 20% in 2000, 22% in 2005 and 28% in 2008.
Politicians in Congress fueled the explosion. The incestuous relationship between Congress and the GSEs has not been made clear.  For years, Fannie Mae and Freddie Mac– right up to their seizure by the U. S. government earlier this year – were everywhere.  They funded politicians' interests, kept mortgage interest rates low and became government-backed agencies for trillions of dollars in risky mortgage lending.  Look at who received the greatest campaign contributions from the GSEs and you will see who was unwilling to rein them in.
Between 1995 and 2007, the combined balance sheet of Fannie Mae and Freddie Mac, including Mortgage Backed Securities (MBS), rose from $1.4-trillion to $4.9-trillion, an annual increase of almost 15%. About $1-trillion dollars of Fannie/Freddie activity involved exposure to subprime and lower-grade mortgages. The loosened standards meant that investors could purchase several homes with out having any "skin in the game". Housing prices shot up. This gave rise to even greater use of credit, as speculators and buyers piled onto a credit and ownership machine that seemed to offer no risk and guaranteed gains. Not all funding came via government and regulatory overreach. Hundreds of billions were raised through new mortgage based securities and other risk-distribution vehicles by private players, as these mortgages, issued under no lending standards, were packaged and then sold as AAA-rated securities. AAA rating? Who gave them this sterling rating?   Essentially the government did.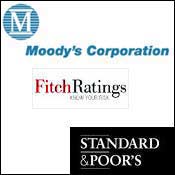 There are only three rating organizations approved by the SEC:  S&P, Moody's and Fitch and these three earn money by favorable ratings. Lack of genuine market competition in the ratings business, meant that the ratings firms, became part of the social program. The view that subprime mortgages issued under lax standards to low income Americans were no more risky than prime mortgages, especially when they were packaged into large agglomerations became widely accepted. Ratings inflation ensued, with AAA and other high ratings accorded to all manner of high-risk mortgage products.
Crucial to the story is the role of the Federal Reserve under Alan Greenspan. Mr. Greenspan's low-interest rate policy -which brought the Fed funds rate to 1% through much of 2003– helped push home values up even higher. As values rose, the lax lending standards started to look even better.
The mortgage and financial crisis now sweeping the world is the product of a colossal build-up of unintended consequences brought on by government policy and regulation. What we are witnessing today, as governments pile on massive new rounds of intervention, is a growing pyramid of government failures. It is not a failure of free markets; it is a failure to have free markets.  Solving the problem by enlarging government's role in the economy is the road to socialism, not the road to salvation.
1 Comment »
Comment by charleydan — January 31, 2009 @ 11:17 am

Life in general. I find the one who points their finger first, to who is at fault,. Is usually right dab in the middle of the problem causing it. Politicians love to point fingers with the solutions.

Do citizens want sensible banking?

I check my bank yearly as I do my car insurance and other policies. The reason is to make sure they are reliable.

Banks that do not have large cash reserves are risky and use easy credit to run their affairs. Counting on luck more then responsible decisions. If my bank, where I deposit my money moves out of this category. I move my money to another bank.

If all depositors would do this. Easy Credit banks would be eliminated and government would be greatly hindered from using the Federal Reserve easy credit. Thereby having a partial gold standard.

Of course to the average person this is to much work. Then they wonder why they have problems?
RSS feed for comments on this post. TrackBack URI
Leave a comment