Freedom creates optimal efficiencies because it demands the best from people and the best is always the outcome.  However, one of the byproducts of efficiency is creative destruction.
Take, for example, the typewriter.  At the height of the typewriter industry there were two notable typewriter manufacturers (there were more than two, but I am only referring to two in this example).  Both companies grew into large corporations and bought out competitors in an effort to ramp up growth.  Eventually the personal computer was invented and an entirely new degree of competition entered the typewriter industry.  One of these two companies did not have the foresight to adapt to the changing free market – it kept producing mainly typewriters.  The company eventually declared bankruptcy in 1995.  That company is Smith Corona – most of you have probably never heard of them.  The second company in our example decided to diversify and enter the high-tech world of manufacturing computers and computer parts as well as a number of other industries.  That company is still around today and recently it sold its computer manufacturing division in an effort to slowly exit the manufacturing industry and expand itself into the consulting industry.  That company is one of the largest American companies today – International Business Machines Corporation (IBM).  The point of this exercise is to point out that freedom demands the best and creates the best.  IBM boasts revenues of about $100 billion each year because it has provided some spectacular services and products to its customers.  Smith Corona declared bankruptcy and is still struggling producing only two models of type writers because they have failed to adapt to the market and are not providing their customers with the best products for the lowest prices.  Just take a look at the two companies' websites (www.ibm.com and www.smithcorona.com) to get an idea of what I am referring to when I say "best."  This example of how freedom fosters the best of all things and weeds out those things that are inefficient and unproductive ends with a happy ending – IBM continues to operate and has probably provided more for Corona Smith's old customers and employees than they would have ever had if it had not been for IBM.  Most importantly, the government did not get involved.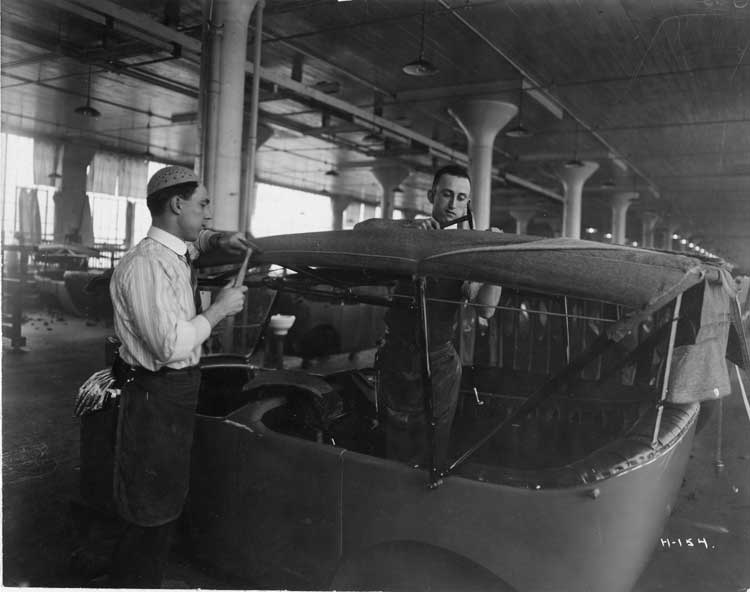 Other endings are not so happy.  Let's consider the example of our automobile industry.  Since the beginning of our automobile industry many automobile manufacturers have opened and closed their doors.  Some names include Pierce-Arrow, the American Motor Car Company, Hudson Motor Car Company (acquired by American Motors Corporation), American Motors Corporation (nearly bankrupt and acquired by Chrysler and rebranded as Eagle), and Eagle (defunct since 1998).  Despite all of these companies closing their doors, the American economy continued on and the people that used to manufacture these vehicles found new jobs.  The exits of these companies were at the hands of competitors that offered superior products at lower prices, just as the troubles of GM and Chrysler in today's day are at the hands of competitors offering superior products at lower prices.  However, because people all have big hearts (or disgustingly crooked intentions, depending on your angle) and look out for their fellow man, the elected officials of the United States Government decided we simply could not put all of the GM and Chrysler employees out of work (even though most of us clearly did not like what they were producing).  As such, the government stepped in and decided to tax us all to "prop-up" these companies.
In the United States, our freedoms have been trampled by people with the very best of intentions.    Most of the United States citizens in favor of "bailing out" GM and Chrysler (excluding congressmen, senators, anyone in the executive branch, any employee of GM and Chrysler, and any UAW member or representative) believed we should spend tax dollars on taking over the companies and redistributing the equity how President Obama saw fit because it would help the employees of these companies.  Some even listened to the politicians' nonsense and believed that taking over these companies would somehow improve the economy.  Either way, most people believed that it would help their fellow Americans to nationalize two thirds of the United States automobile industry.  They had good intentions; they just did not have the knowledge to foresee that their actions would actually harm most Americans.  Most tragically, it would harm innocent Americans that had previously had no stake in GM or Chrysler and would still pay the price of nationalizing them.
Each dollar you spend is a type of vote.  You are voting that the product or service you acquire is better than its competitors.  When you buy a ticket to The Hangover rather than Paul Blart: Mall Cop, you are voting that more movies be made like The Hangover than Paul Blart.  Similarly, when Americans went out and bought Toyotas, Hondas, and Fords, they were voting that more vehicles be produced like those they bought than those produced by GM and Chrysler.  Now we do not have the freedom to decide.  Now the government decides for us.  We are each taxed (some more than others) and we have all therefore given our money to GM and Chrysler, even though they created inferior products.  Furthermore, this occurrence puts a big vote in from all of us that it doesn't matter what kind of filth you put out of your factories – if you employ enough people the government of the United States will tax its citizens more to pay for your company's shortcomings.  What do you suppose this will do to the research and development of these companies?
Because the auto-industry has been the focus this year it is easy to pick on, and I will continue picking.  Consider the subsidies the government gives buyers of hybrid vehicles.  These also come from the best of intentions (for most people).  Generally, the supporters of this subsidy want less vehicle emissions to enter our atmosphere in hopes of keeping the air clean and somehow (this is also bullshit . . .) cool our planet (apparently a cold planet is better than a warm one and I don't think anybody knows why they feel that way).  No matter your politics, it is clear that most of these people have good intentions.  However, they are stripping the rest of us of our freedom and they are tampering with creative destruction.  They are effectively making each of us pay for part of a hybrid car, whether or not we want one.  Furthermore, they are making people that may not otherwise buy a certain model or brand of car, buy said car.  This creates a situation whereby people are voting for one type of car with their dollar because it is now cheaper (because we are all pitching in) than the car they would have otherwise purchased, even though the other car would otherwise be superior for that given price.  This then tells the automobile manufacturer to make more of the subsidized car and less of the car that is actually superior.  If the hybrid cars truly were superior cars for the price then people would naturally be lining up to buy them.  I can't be certain because they are already subsidized, but I am confident that if there were not subsidies for hybrids that the Toyota Prius would still sell well because it gets great gas mileage for those people that are concerned with that.  We do not need the government to tell us (or "nudge" us as Cass Sunstein would say) what we should buy, sell, do, or believe.  If a product is better and cheaper then it will prevail.  If it is overpriced and lousy then it will be driven out of the market.  The same can be said for all things, not just automobiles.
These are but a couple small examples, but the lesson holds true to all things.  One of the most beautiful parts of a free society is that it embraces the best and discards the worst.  It is only when the government steps in to press its will upon the citizens of that society that things go wrong.  No matter the intentions of those people that push for new laws and regulations, one thing stands true about them: they feel they can run your life better than you can run it yourself.  I disagree.  I believe we are all capable of making decisions for ourselves.  Sometimes you and I will be wrong and we will pay our own price for being wrong and, likewise, we will reap our own benefits from being right.  But, no matter how often we are personally wrong, with enough people acting freely the world will inevitably improve and each and every one of us will be better off in the long run.
Please Comment: I'd like to hear if any of you can come up with a situation in which creative destruction is more destructive than creative.
4 Comments »
RSS feed for comments on this post. TrackBack URI
Leave a comment